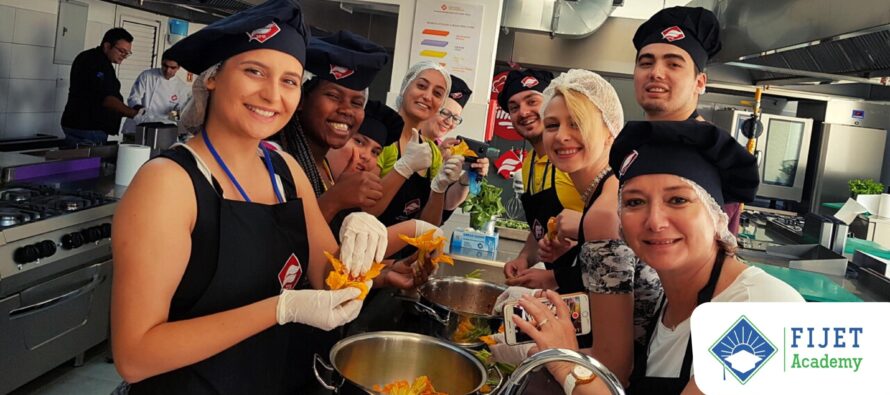 FIJET Academy North Cyprus 2019
Organized between 16-23 June in North Cyprus, FIJET Academy 2019 was hosted by Final International University located in Girne (Kyrenia).The 2019 edition of FIJET Academy, held under the theme of "Tourism and Technology for better intercultural communication" provided courses of E-Tourism, Tourism photography, Innovation in management and marketing of cultural tourism destination, The role and importance of intercultural communication in tourism,  The importance of crisis communication and a gastronomy workshop.

FIJET Academy 2019 Trips
Training young journalist candidates with in class educations on one hand, the academy also organized press trips for helping destination marketing in North Cyprus. The participants of FIJET Academy 2019 visited and created promotional contents for Girne (Kyrenia), Bellapais Monastry, Kyrenia Castle, Old Harbour, Walled City, Ghost City-Maraş (Varosha), Othello Castle, Salamis Ruins, Lefkoşa (Nicosia), Güzelyurt, Lefke as well as the ancient city of Soli and Vuni Palace.

Academic staff of FIJET Academy 2019
Covering topics of latest innovations and perspectives that develops international communication within the framework of tourism phenomenon, the international academic staff of FIJET Academy 2019 consisted the following lecturers.
Prof. Gabriela TIGU
Dean of Faculty of Business and Tourism,  Bucharest University of Economic Studies
Richard Chamberlain
Photographer
Prof. Dr. Olgun Çiçek
CEENQA (Central & Eastern European Network for Quality Assurance in Higher Education)
Dr. Amelia Tomašević
Academcian at Zagreb VERN University
Assistant Professor Dr. Nafiya Guden
School Director of Tourism and Culinary Arts, Final International University